I launched The Crooked Style as a business in 2012. I chose the name because my work was described as quirky and unusual and I thought it fittingly referenced the nursery rhyme "There Was A Crooked Man".
I began selling my work at Herne Hill Farmers Market in the autumn of 2012 and continued to sell my work there every week for six years. I began by directly painting onto boxes and picture frames, which I sold alongside giclee prints of my illustrations and hand made cards. I then added jewellery to the range, by setting my images under glass domes and applying them to pendant trays, earrings and brooches. I do still occasionally sell my work at one-off craft fairs and events.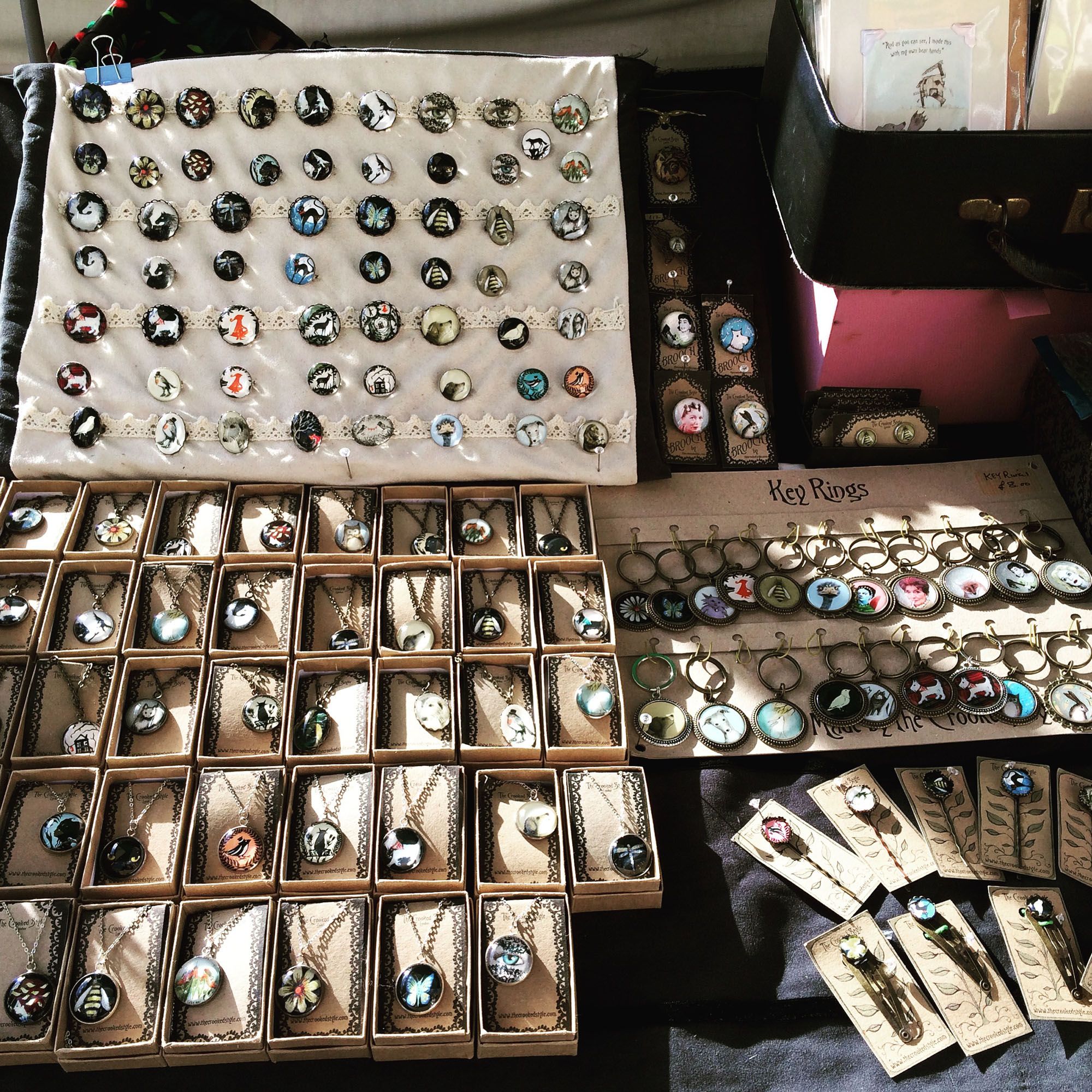 In 2015 I was approached by the author and filmaker Sarah Gray to illustrate her first book of short stories. We found that we had many similar likes and influences and so it was a perfect fit. I have since gone on to illustrate more books for Sarah, for other authors and also clients for online magazines and individual projects. I would like to develop this aspect of my career further, as well as write and illustrate my own books. This does mean that the markets and craft fairs have taken a bit of a back seat for now, although I will still sell a selection of items here on my website and at a few fairs. I would really like to take the opportunity to thank all my customers at Herne Hill and here online, for their continued support over the last eight years.
Past Life and Other Influences
I studied painting and printmaking to BA level and gained an MA in illustration in 2008. I have worked as a scenic painter, pavement artist, mural painter and for one surreal week, a dresser for Rugrats - The Musical at Wembley Arena ( an interesting aside ).
Many of my ideas and themes are based around folklore, fairy tales, old wives tales and sayings. I also take alot of inspiration from the art of the theatre, fairgrounds and historical costume, especially from the Georgian period up to the 1970's. Some of my favourite Artists, who have also been a massive influence, are Goya, Hogarth, Lotte Reiniger, Edward Gorey, Ronald Searle and Paula Rego. I also want to acknowledge one of my favourite authors when I was growing up... Joan Aiken, who inspired me beyond words.